Life-long Jesus follower, or never cracked open a Bible. Shirt and tie guy, or jeans and sneakers person. You are welcome here. We invite you to join our perfectly imperfect community where we explore together the big questions: What's the meaning of life? Does my life have a purpose? Who is Jesus? What does it mean to be a Christian? No question is dumb or insignificant. We explore these together, we seek to bring hope and healing in our neighbourhood and city through practical projects all while having fun and the odd potluck!
COVID PROTOCOLS UPDATE: St. Paul's no longer requires masking or contact tracing in accordance with local health regulations. We do provide complimentary masks and hand sanitizer for those who
wish to continue to use them.
One Service. Three Ways:
On Line
Join Us
From Home or Away via Zoom
https://zoom.us/ Click to "Join a meeting" enter meeting ID: 786 765 4264 and the password: 184 928
By Telephone
Toll Free: 1 855 703 8985 enter meeting ID: 786 765 4264 then password: 184 928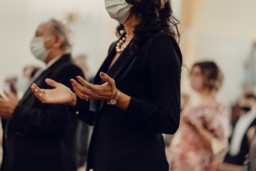 In Person
Join Us
St Paul's Presbyterian Church
@TheMountCommunityCentre
1545 Monaghan Road – enter at McDonnel Street
St Paul's Presbyterian worship sanctuary is the front north corner of The Mount Community Centre